Designing a FinTech mobile app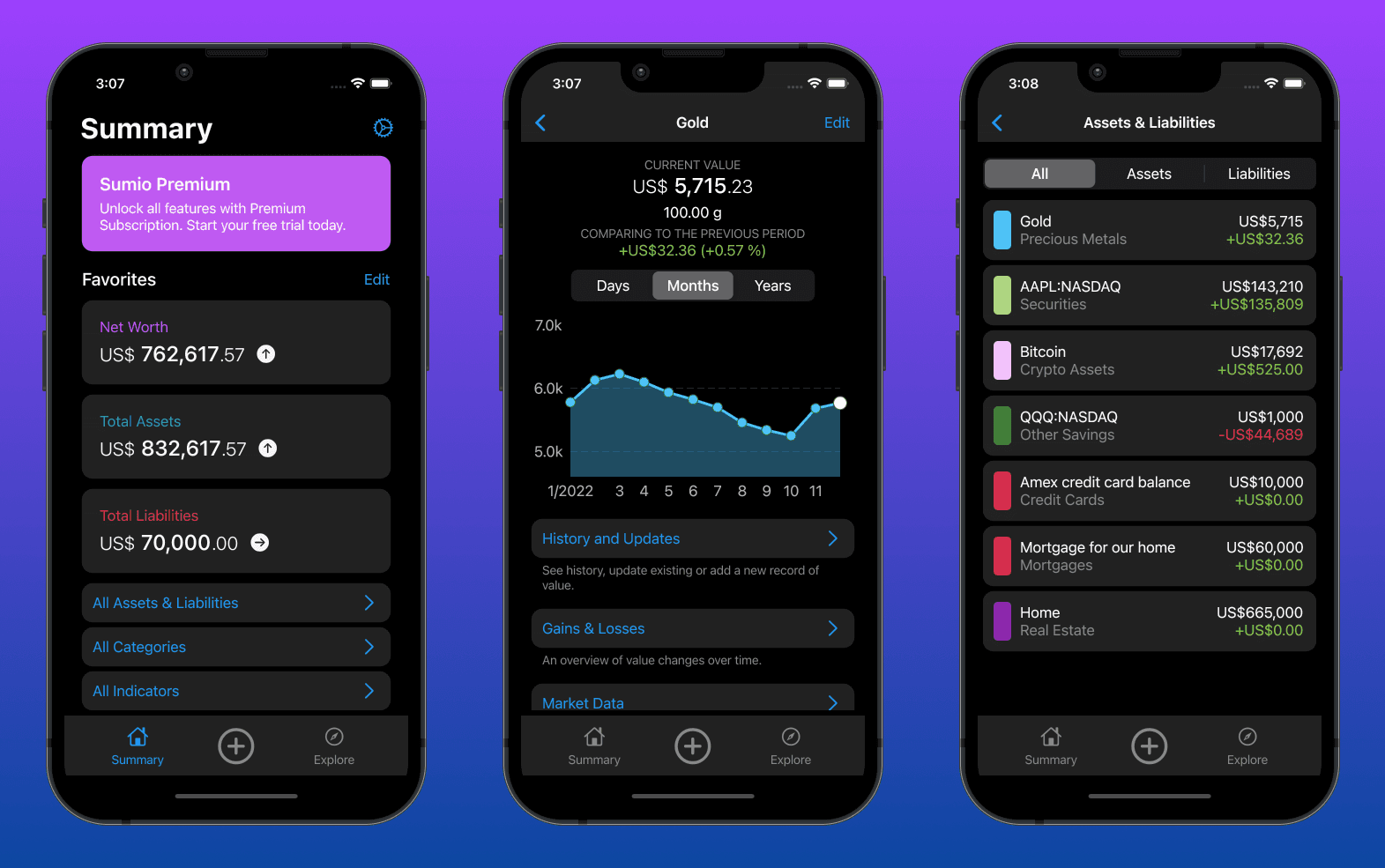 Project overview
From research to high-fidelity prototypes, testing, and exploring, this project is ongoing work on a mobile app Sumio.
Project duration
March 2020 – Present
The product
Sumio is a mobile app for financial planning. It's privacy-focused and includes a range of automation and visualization features that help users understand their money. The app is available on the Google Play Store and the Apple App Store.
The problem
Most of us want to be safe and comfortable with our money, but we don't know who can we trust, what are the options for investing and savings, how to achieve our goals, and ultimately how to build our wealth to retire.
The opportunity
Retirement has a new meaning and concerns us all.
Open Banking is becoming a global standard.
Financial and market data are available online.
The goal
Develop an honest and privacy-respecting tool for navigating finance and building personal wealth.
Replace spreadsheets used for tracking Net Worth, portfolio, cash flow, etc.
Replace outdated tools for financial planning and wealth management.
Replace financial "advisors" who work as salesmen.
My role
Product designer, product manager, and project manager.
Responsibilities
I did (and still do) everything necessary to make Sumio successful. This includes UX research, prototyping, testing, preparing a roadmap for development, managing development, deployment to app stores, user support, managing store presence, and marketing.
The result
We launched MVP of Sumio. We wanted to learn and get feedback from users to validate its proposition. Right now, Sumio is focused on net worth tracking with automated market value updates for stocks, ETFs, precious metals, and crypto. It does currency conversions automatically and enables users to keep track of any asset and any liability in any world currency.
It's great to see Sumio growing and getting paying users, although it's still the early version of the product.
Impact
Sumio offers an easy and private way to manage personal finance. It is an alternative to apps collecting personal data, or selling ads. It helps users to understand their money, and evaluate their financial decisions. The app has a generous free plan and is available globally in six languages.
Reviews
This app is just remarkable in all aspects.
Complete net worth tracker, simple and effective, I love it!
What I learned
The roadmap for the development should be designed to enable the launching of a new feature or update of the app regularly every few weeks.

The only real validation of the product is to get users to pay for it. Only after I launched the app and got feedback from paying users, I could validate the value proposition.

Marketing of the product should start from day one. There is no reason to wait till just a few weeks before the launch. Building a community from the start (Twitter followers, email signups, etc.) is important. Even when the product is just an idea, sharing it and building a community around it can be very useful.

Enough time and effort must be dedicated to all the materials for stores and optimization of the app store presence.
Takeaways
Launch as soon as possible, starting with even a very simple first version of the product.
Continue launching as often as possible – update the app regularly.
Having a community before the launch is a huge advantage.
Stores are kingmakers.
Import of financial data must be automated.
Tracking Cash Flow is a must feature.
Planning features shall add critical value.
Having rich market data is a differentiator.