Designing a mobile app and responsive website for Ontrak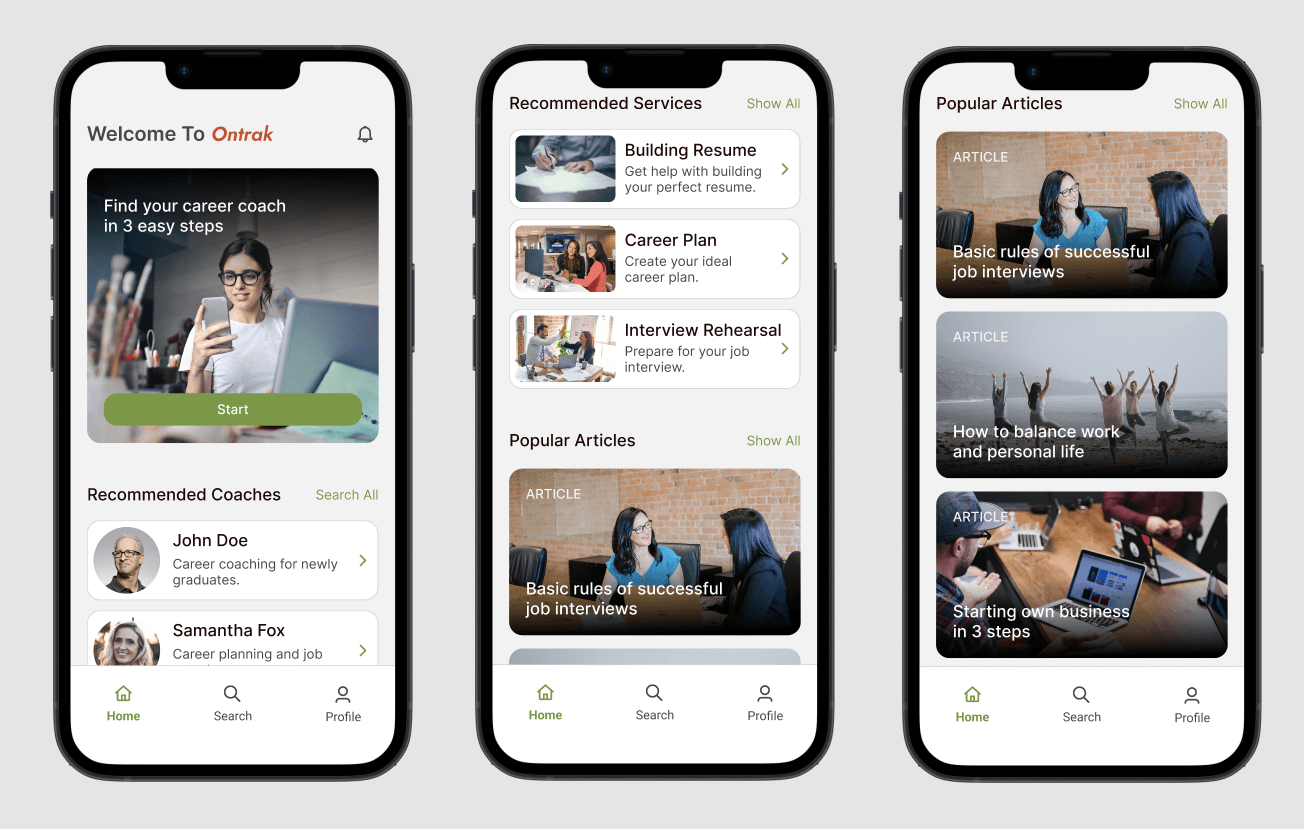 Project overview
Imagine getting a professional to help you with your career would be as easy as ordering a cab online. That is a mission of Ontrak. It's a career coaching service specializing in helping new graduates in getting on their career path. It provides career coaching and services like career planning, resume writing, and job interview training. Ontrak's primary target users are new graduates and young adults who are starting their careers and looking for help and support in finding a job.
This project was part of my UX design certification.
Project duration
March 2022 - April 2022
The problem
It is not easy to find help and support for getting on a satisfying career path. It is challenging to know how to prepare for professional life, especially for new graduates and young adults who are starting their careers and looking for their first jobs.
The goal
Design an accessible mobile app and a supporting responsive website that will enable users easily find a career coach.
My role
UX designer designing the app and the website from conception to the final design.
Responsibilities
The complete product design process, conducting of user interviews, paper and digital wireframing, prototyping, the definition of the brand, and visual language, accounting for accessibility, iterating on designs, determining information architecture, and responsive design.
User research
I conducted research to understand how potential users view career coaching, and what services they would expect to get, what the ideal career coaching service should look like, and if they would prefer in-person or online channels.
I used Slack and LinkedIn groups to get in touch with potential respondents and collect inputs.
The research confirmed that career coaching could be interesting and useful service that people would consider and use online.
Painpoints
Not sure what is a career coach: it is not clear how career coaching works, and what to expect from such a service.

Don't know where to go or where to look: not knowing where to go for help, who could help, where to find a coach.

Finding & choosing a career coach: finding the right coach for a specific situation and need is not easy.
User personas
Based on my research I established two user personas and identified their frustrations and goals regarding career planning.
Persona 1: Jeremy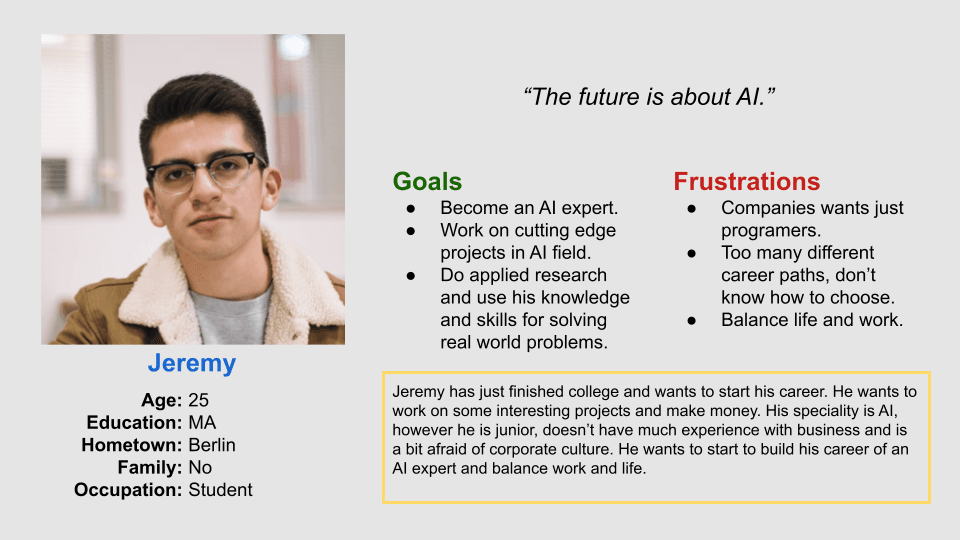 Jeremy is starting his career and wants to become an expert in the field of AI.
Persona 2: Lily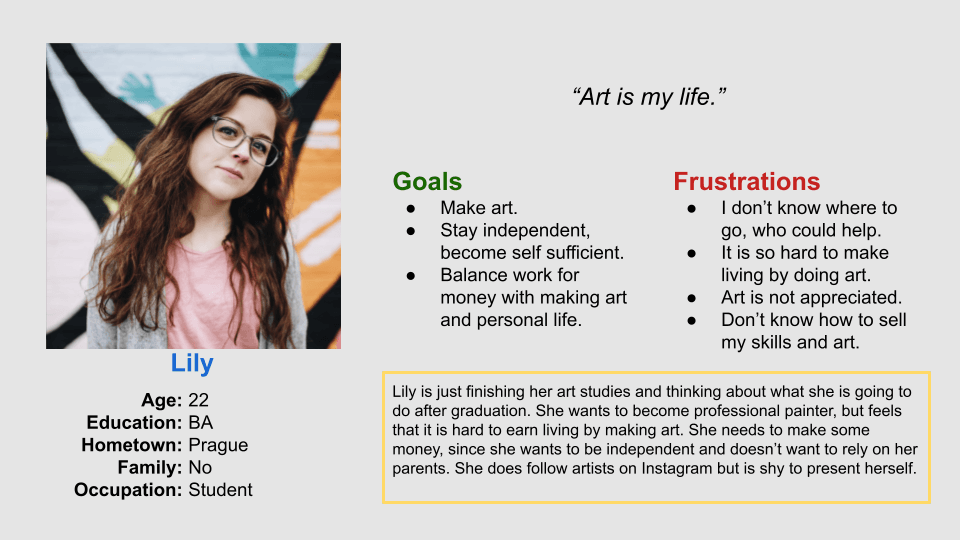 Lily just finished her studies and would like to get help with starting and building her career as an artist.
User journey map
I wanted to understand how people are fulfilling their goals now regarding career planning, and a user journey map is a handy tool for this.
Jeremy: Getting help with starting a career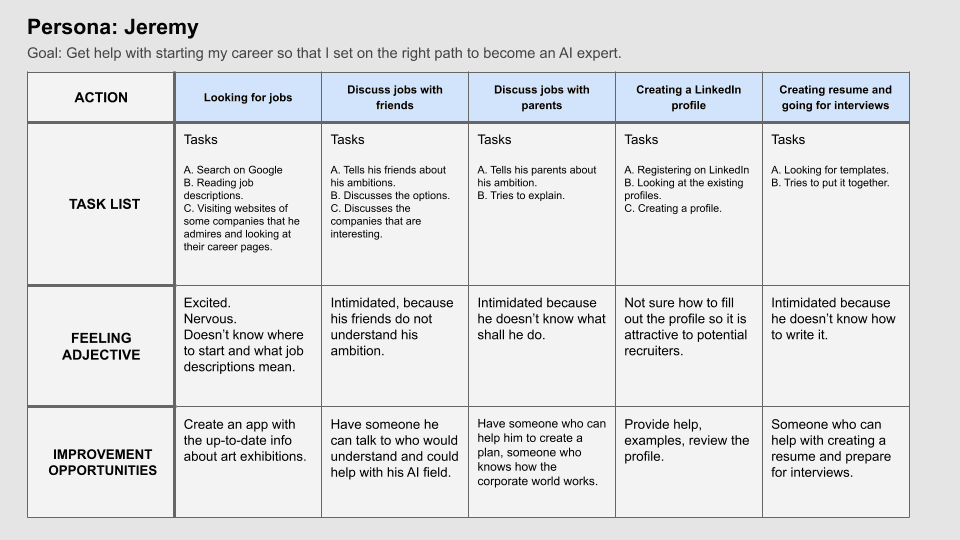 Mapping Jeremy's journey showed the app could be helpful by giving him a chance to consult experts and get help with the preparation of his professional profile and resume.
Lily: Earn enough and pursue her dream of becoming an artist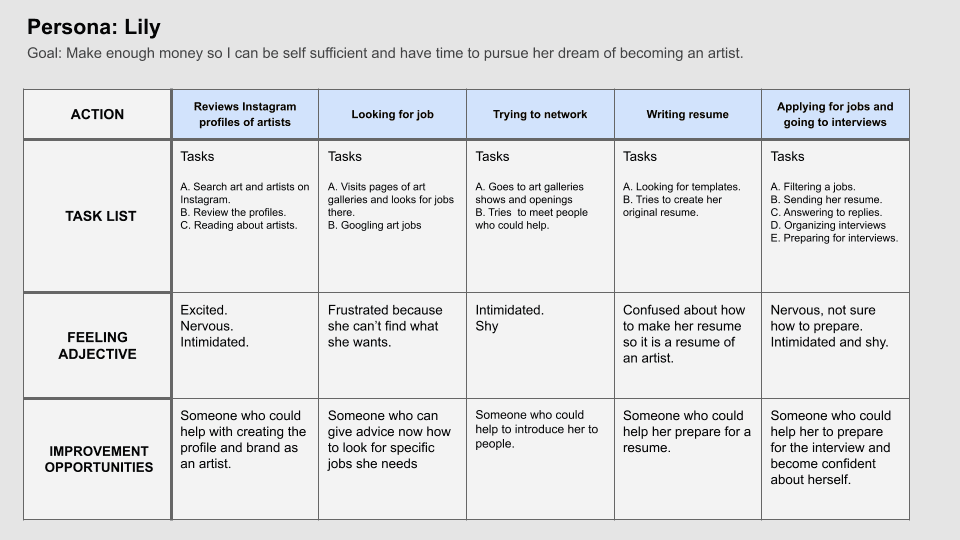 Mapping Lily's journey showed the app could be helpful in addressing Lily's need of finding help by introducing experts who could provide their advice regarding a career in arts.
Competitive audit
There are already successful businesses offering career coaching and providing help with career planning. I wanted to make sure I have a basic understanding of the competition to Ontrak and conducted an audit.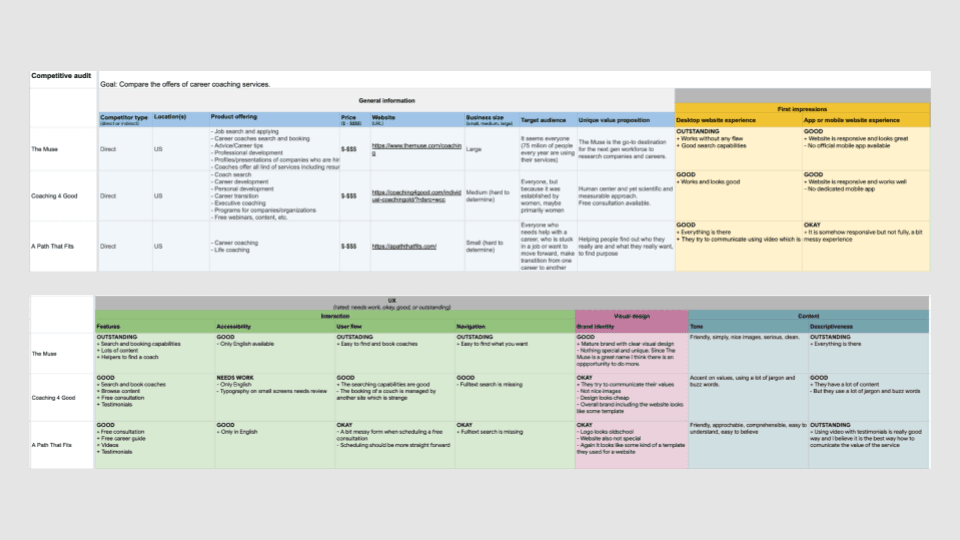 An audit of available career coaching services helped me get insights into how is career coaching communicated and what services are already offered.
Ideation
I decided to focus on searching/finding a career coach journey. Creating a guide that would make finding the coach for specific situations easy and smooth.
Digital wireframes
My goal was to make the app straightforward. It should be clear from the first moment a user opens the app what the app can do.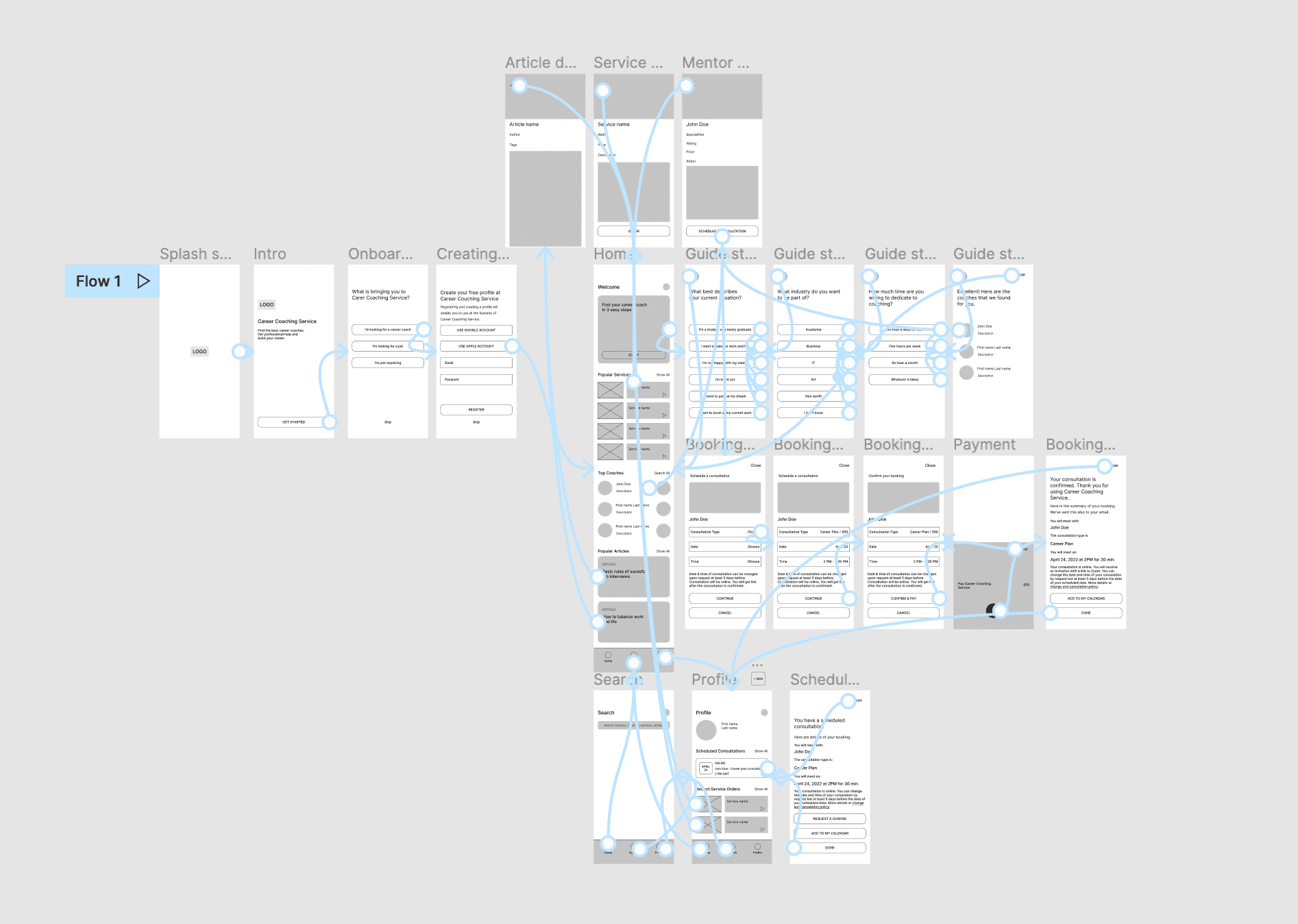 I designed the flow for the guide and also the flow for scheduling the consultation with a coach.
Usability study
I conducted a moderated usability study with 5 participants, remotely, via a video call.
Findings
Guiding users: Users were able to find a coach using the guide, and it worked for them.
Coach Details: Users expected more details about each coach.
Onboarding: The onboarding process could make the mission of the app clear.
High-fidelity prototype
I used the results of usability testing a created a high-fidelity prototype. I made the app "clean" and easy to use.
The final high-fidelity prototype enables users to find a career coach using the guide and schedule a free consultation with a career coach.
Accessibility considerations
The app can help users find the right coach for their situation or need using the interactive guide.

Answering just 3 questions will filter from all the available coaches the right ones.

Icons and buttons with descriptions shall help make the app easy to navigate.

Bigger font and clean design including the color scheme shall provide a convenient user experience for most users.
Website design
After I finished the mobile app I started to explore how to make a website that would work well on mobile devices and also desktops. The website would promote the mobile app and could work also as a web application itself.
Sitemap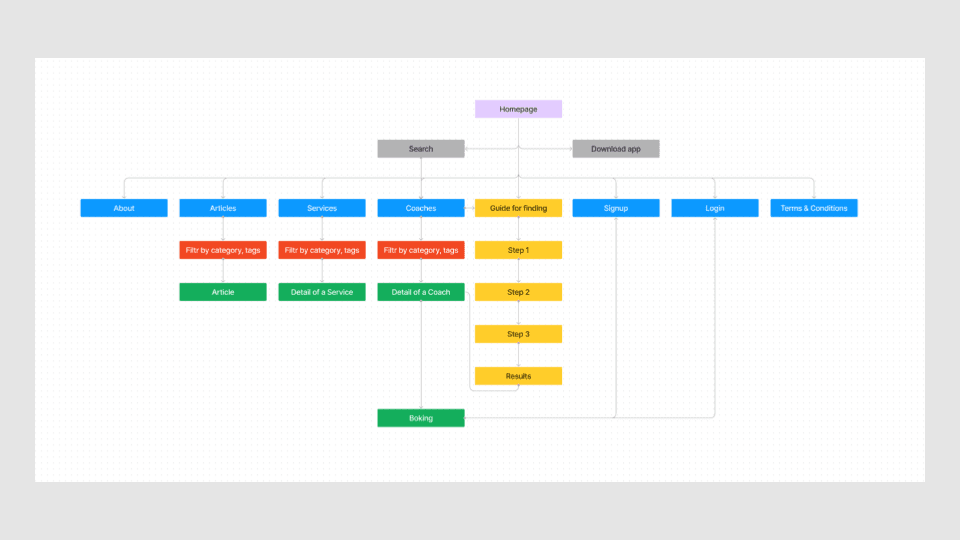 I started with the information architecture and created a sitemap for the website.
Wireframes
I continued with creating wireframes for the desktop website.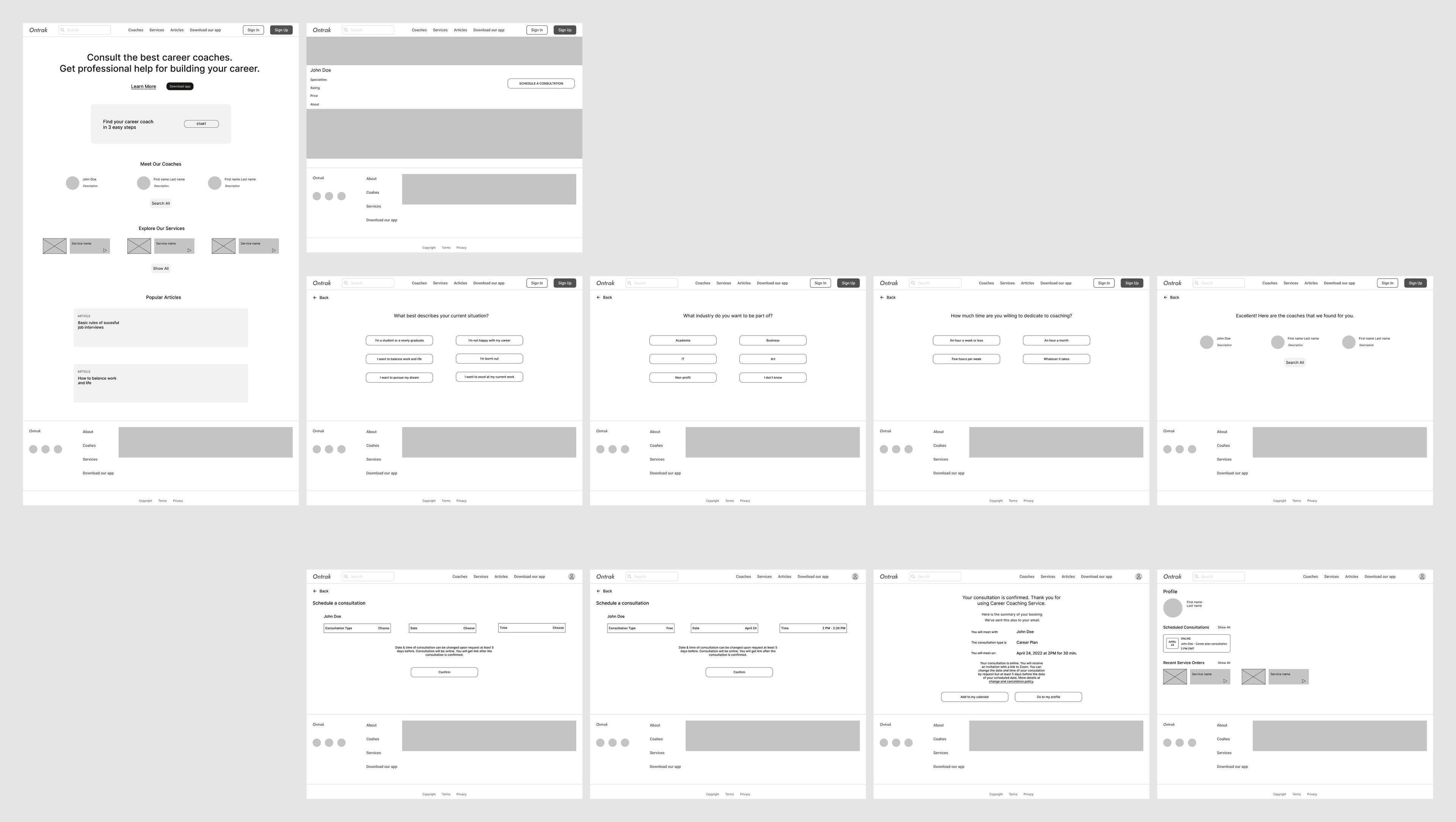 Design mockup
And finished with a design mockup.

Responsive design
I explored how to make the website work smoothly on different displays and created versions for mobile, tablet, and desktop views.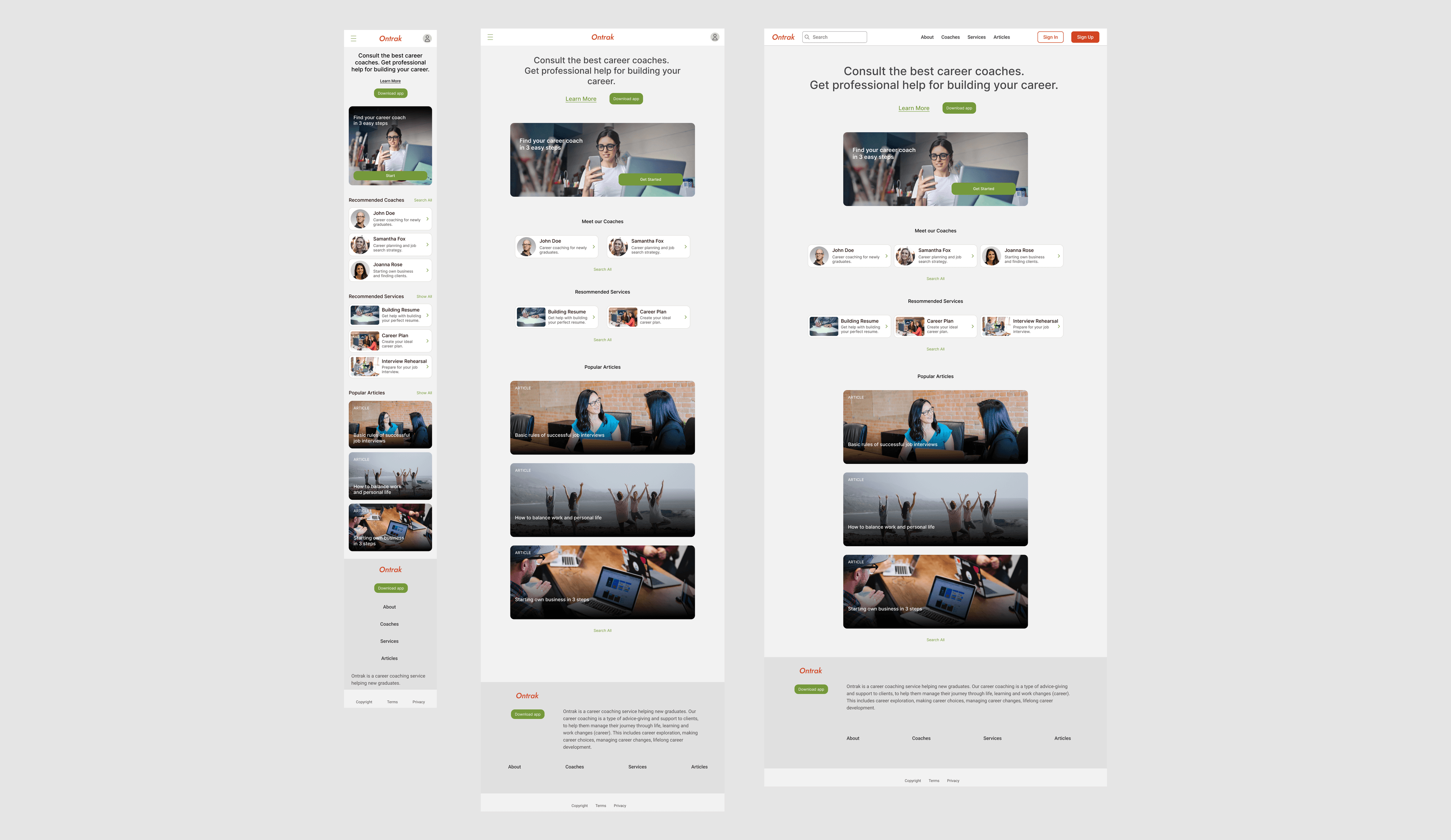 The result
The Ontrak shall enable users easily find a career coach and schedule a consultation thus helping them in finding help for making important life decisions.