Designing a mobile app for booking a tour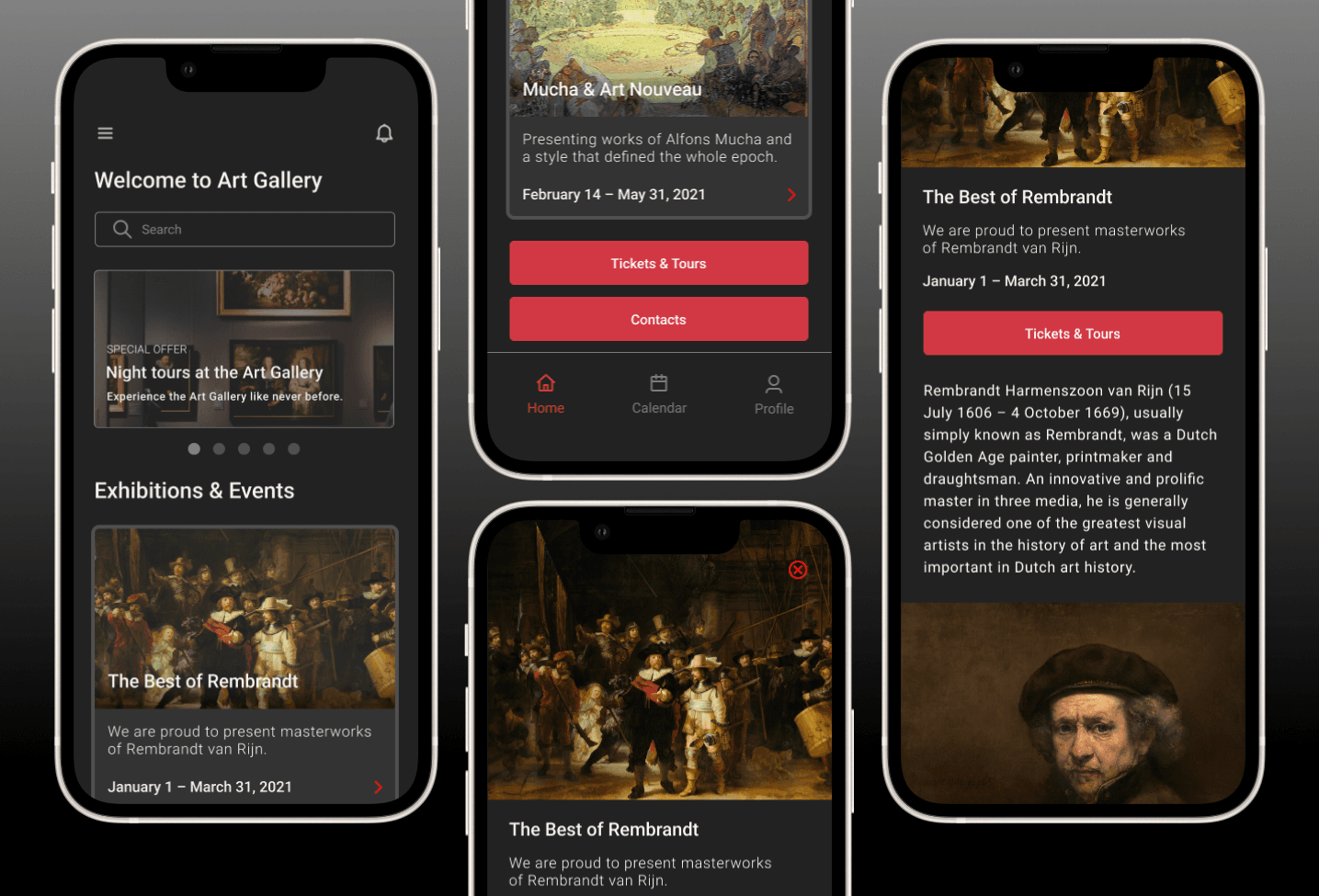 Project overview
Imagine a gallery where you can see the best modern art, but also visit exhibitions focused on classic masterpieces. That is Art Gallery. It's a gallery in Prague on a mission to make art accessible to anyone and wants to offer a new mobile app that would make scheduling and checking in for tours a breeze.
This project was part of my UX design certification.
Project duration
December 2021 – February 2022
The problem
Booking a tour is a tedious process with a lot of friction.
The goal
Design an app allowing users to easily book a tour for an exhibition.
My role
UX/UI designer designing the mobile app, from research, through concept, to the final high-fidelity design and prototype.
Responsibilities
I conducted all the steps of the UX Design process, including user research, ideation, wireframing, prototyping, and usability testing.
User research
I conducted interviews with potential users to understand their preferences regarding visits to galleries.
A primary user group identified through the research was young working adults who live in the city.
The research confirmed that making an app with easy booking could make visiting the art gallery appealing to a broader audience.
Pain points
Getting information: Getting information about the available exhibitions and exploring options for tours shall be easy.

Time: Everyone is busy and no one wants to go to a gallery just to realize tickets are not available or it is crowded.

Availability: Booking a tour or buying a ticket is usually available only on the website.

Notifications: Forgetting about the exhibition or not knowing there is an exhibition with art users are interested in.
User Persona
Creating a user persona helped me to focus on the target audience.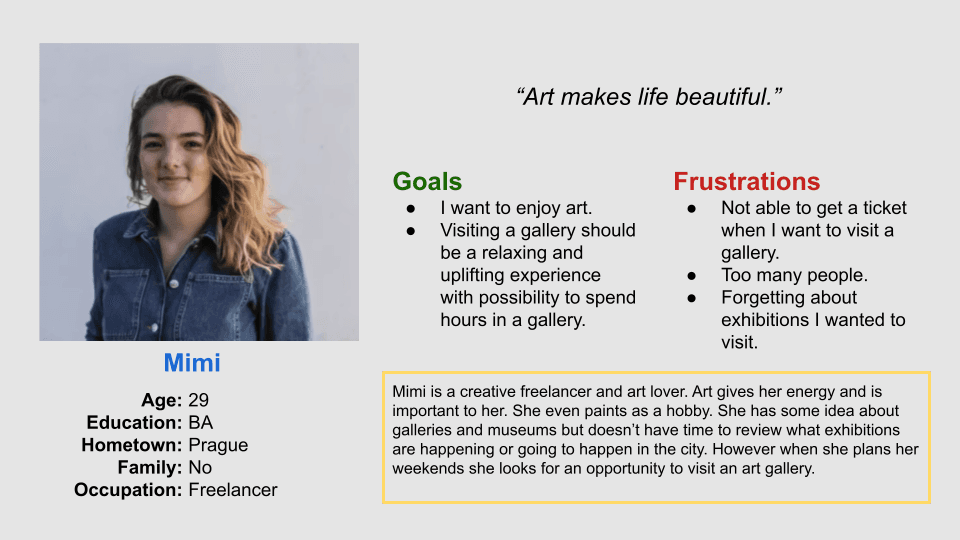 Mimi is a busy working adult who needs an easy way to book a tour of an art gallery based on her schedule because she has limited free time.
User journey map
I wanted to better understand how users currently get information about and visit current exhibitions. I created a User Journey Map that gave me a picture of the whole process.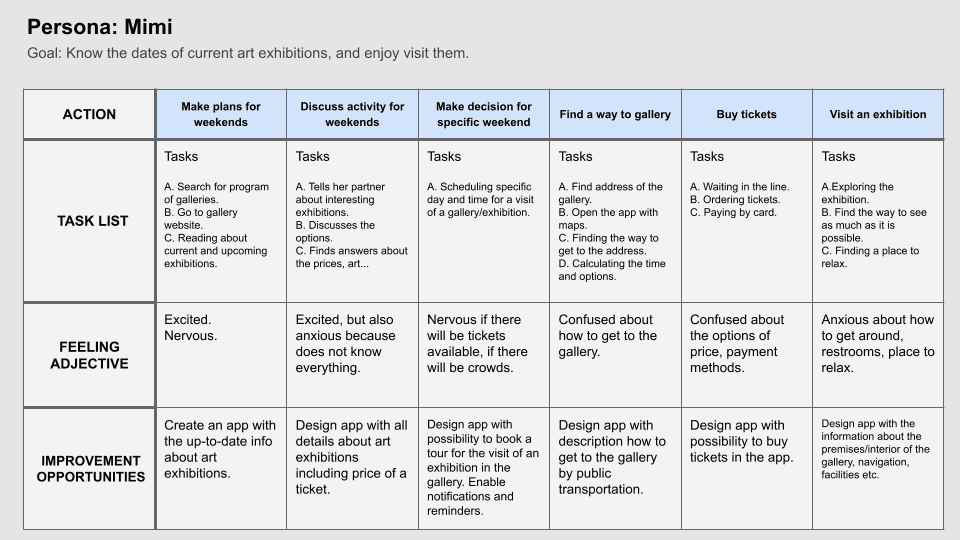 Mapping Mimi's journey showed how the app could help address Mimi's frustrations by providing an easy way to explore available art exhibitions and book a tour.
Design
I started to sketch the app and soon created the first digital wireframes and mockups for the key screens of the app.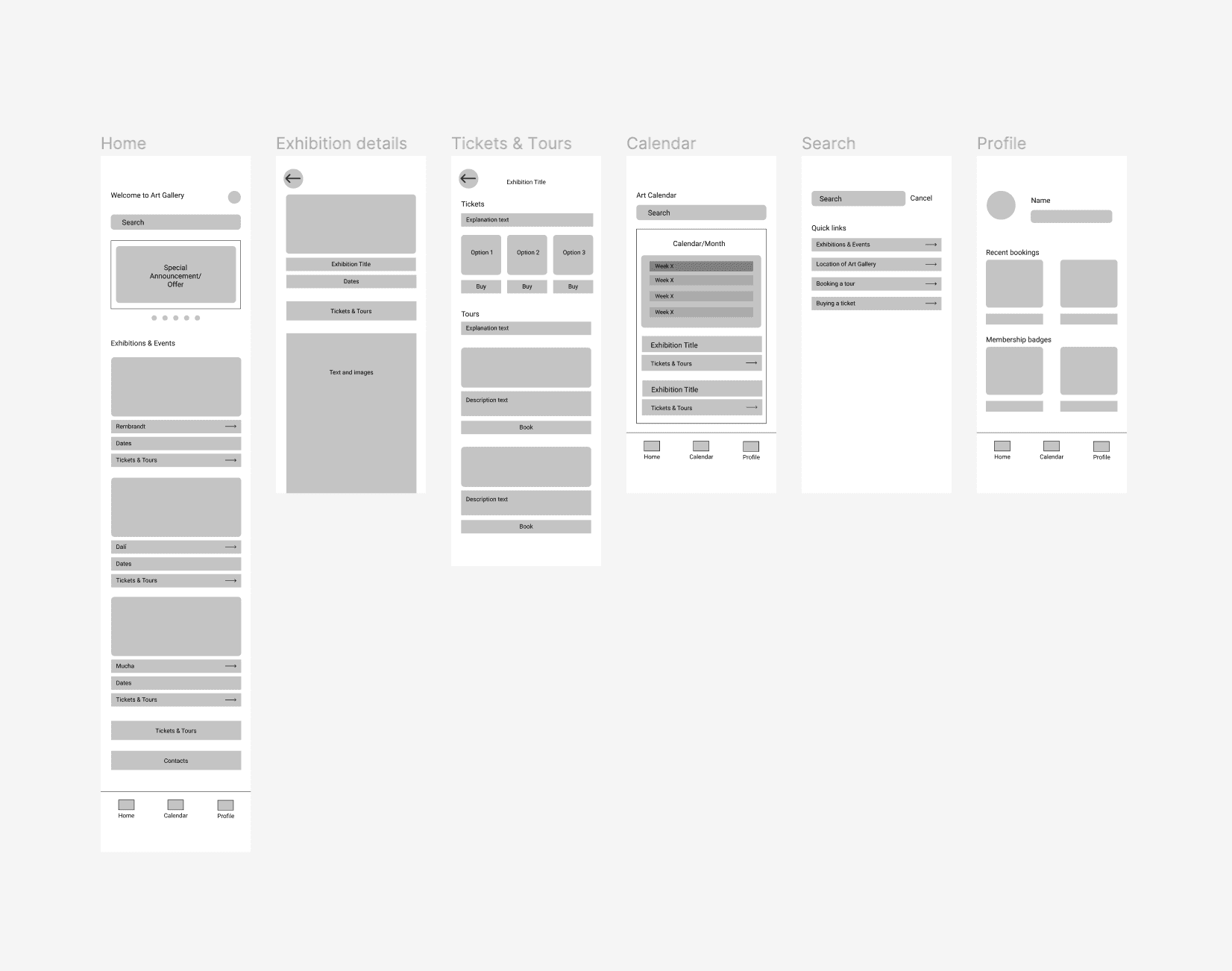 Since the app is about visual art I decided the focus should be on pictures.
As soon as users open the app they can browse exhibitions, search for exhibitions, see notifications, and carousel with special offers and announcements.
Low-fidelity prototype
I wanted the booking of a tour to be easy, and similar to scheduling a meeting. I created a prototype to be able to test with users.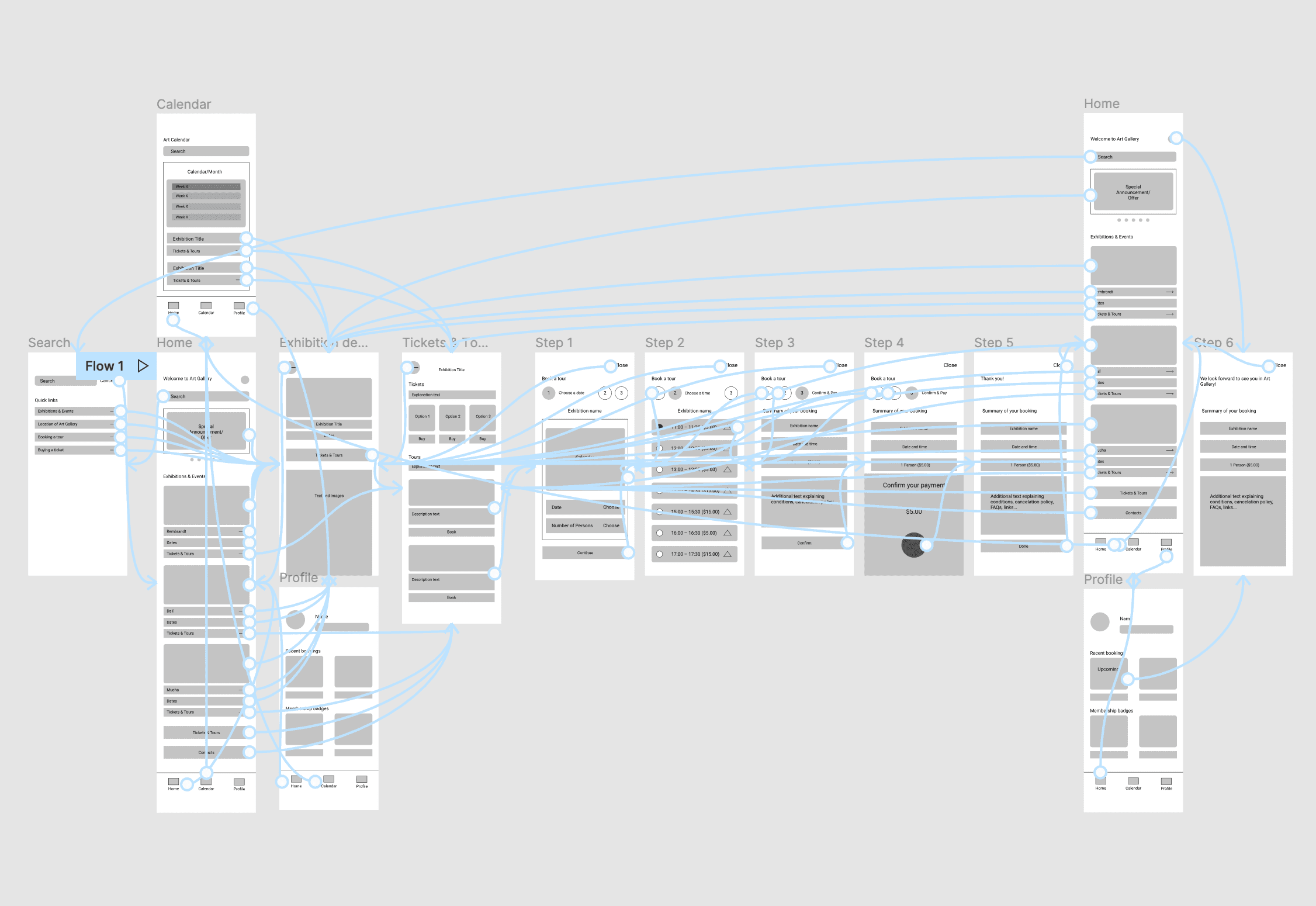 Usability study
I conducted two rounds of usability testing. The findings from the first study helped me make decisions regarding the booking process.
Round 1
Users were not sure where to start.
Users were not sure how to find the exhibition.
Users were not sure about the difference between tickets and tours.
I modified the design and did a second usability study.
The findings from the second study helped me to refine the elements/screens and gave me insights regarding the overall user experience.
Round 2
It was not clear when the payment happened.
The ticket screen was not clear.
The notification bell icon rather than the shopping cart icon.
Refining the design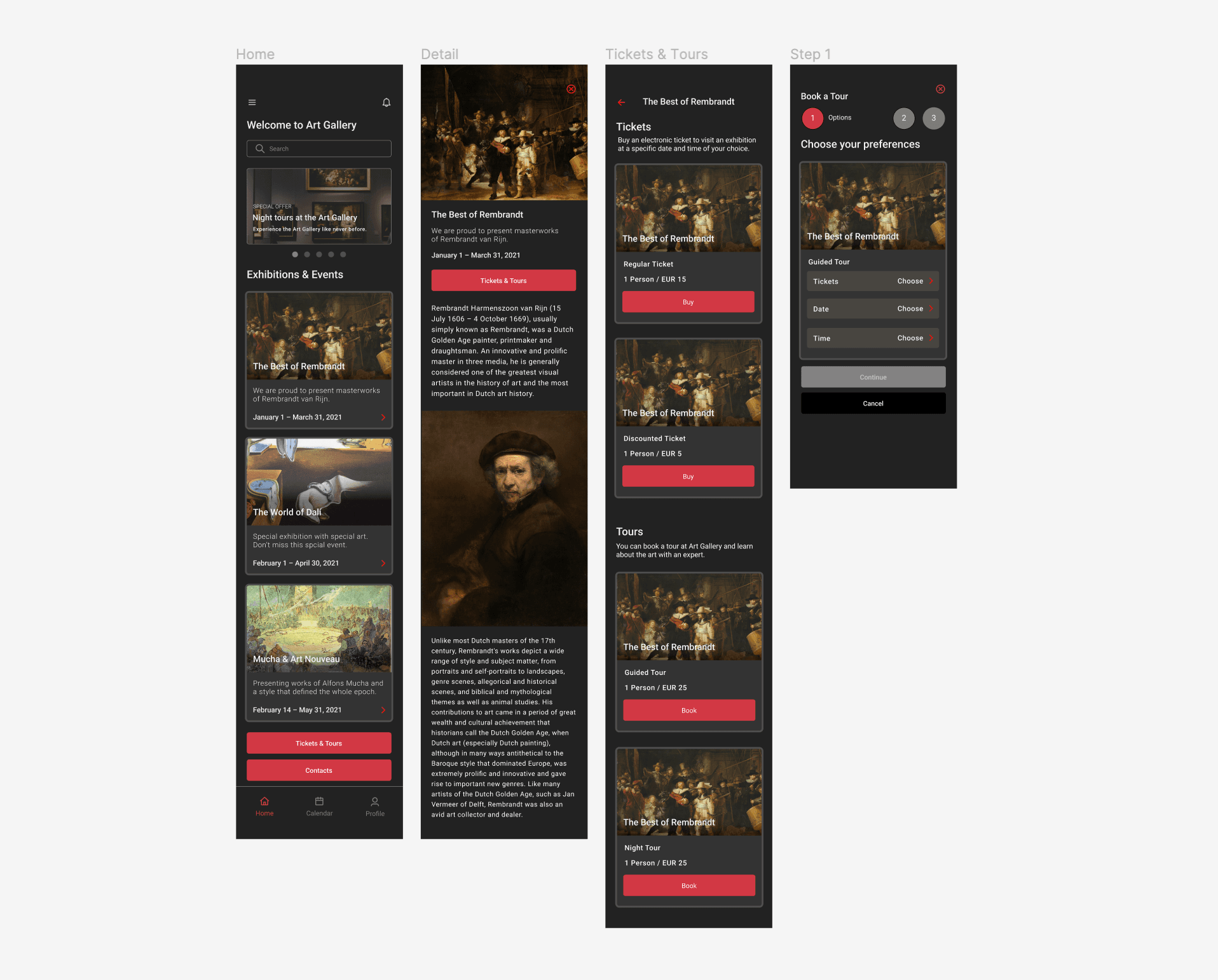 I realized the booking process should be simpler. I moved the step with choosing the number of tickets, date, and time together and made it a first step of the booking process.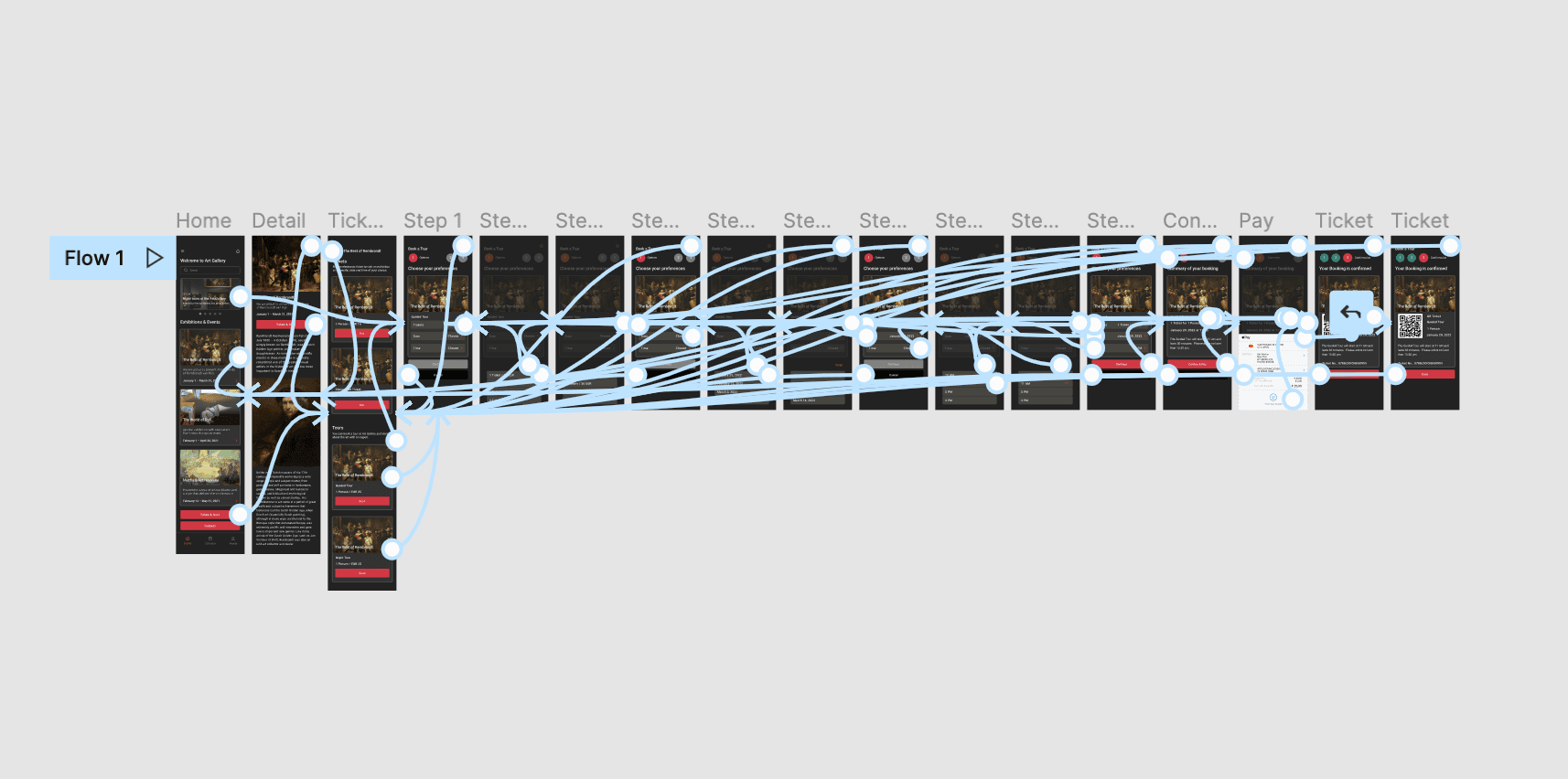 The final high-fidelity prototype enables users to explore current exhibitions and buy a ticket/book a tour.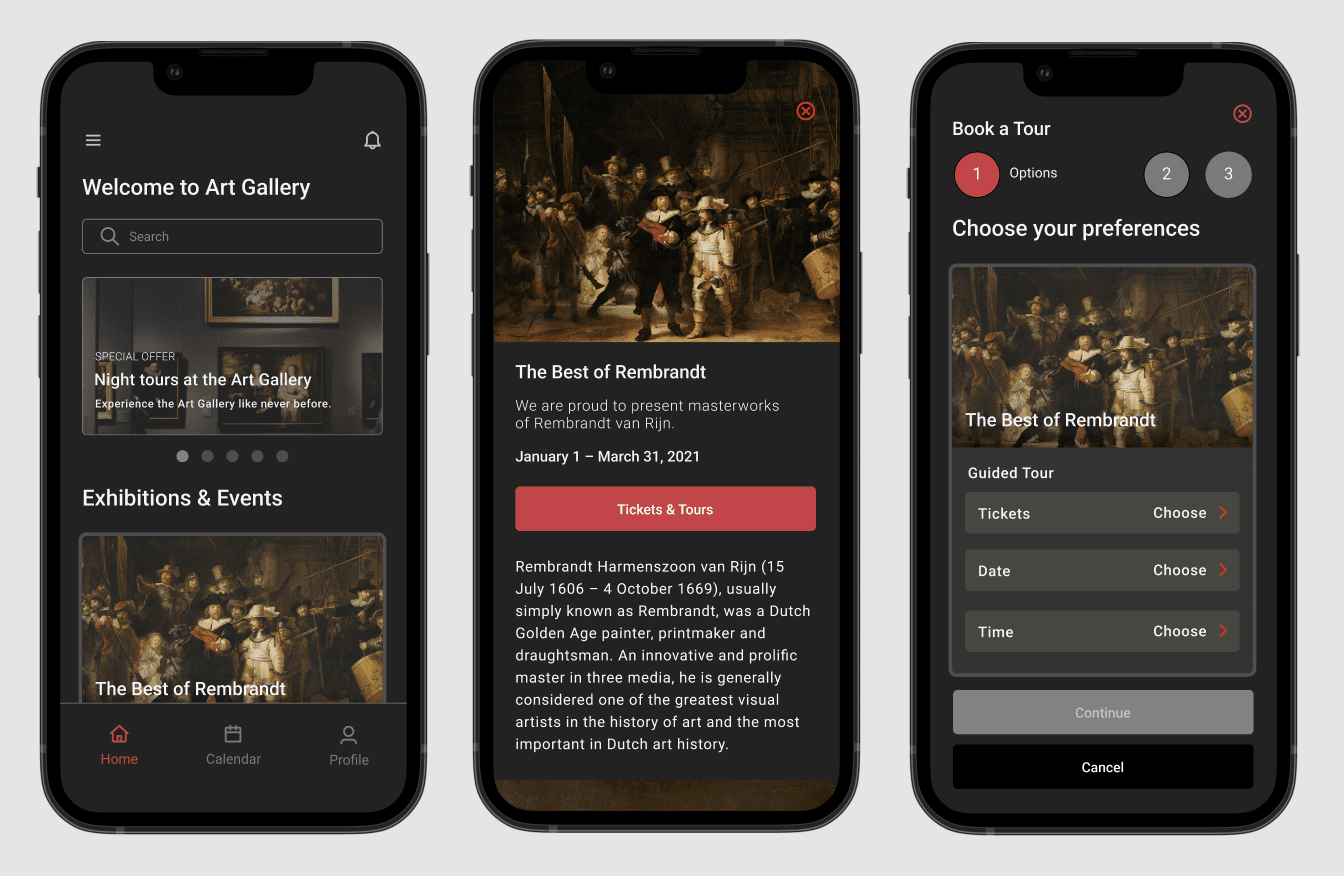 The result
The question was – can I make the booking of a tour in the Art Gallery delightful? The answer is yes! The app enables users to easily book a tour for an art exhibition and thus making it easier to visit and enjoy art.
The impact
Making it easier and more convenient to visit galleries would make art more accessible to a broader audience.
What I learned
Users want to use full-text search and search for their favorite artists or art.
The app could offer not only a way to book a tour at art exhibitions but also tours at castles and other venues.